Kind of, but we have better style

This Article is an A! It has all the sections and images in place, making it complete.
Lavigne is a fairy who attends Alfea.
Appearance
Lavigne has a light complexion with light brown eyes and blond hair. She wears a blue/light green t-shirt with yellow drawings in the middle, blue short-legged jeans, a light brown belt with a gold oval buckle and light blue sneakers with yellow details.
Series
In "Rescue Mission," Lavigne is seen with Lolina, commenting on Aisha's weird behavior as the latter was trying to catch Piff from falling.
In "Professor Avalon's Secret," she is seen in Alfea's Dining Hall. She is later seen in a hallway and is later seen in the garden.
Comics
#12: Magic Battle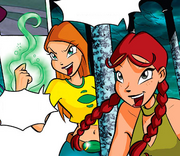 Lavigne makes her debut in Issue 12 fighting alongside Heidi against the Trix's Army of Darkness. After Heidi blasts down one of the aerial soldiers, Lavigne praises her on making such a nice shot.
Magical Abilities
Lavigne's magic is specialized in protection. Lavigne is shown using her magic to cast energy beams.
Lavigne may know some basic, first-level spells that all fairies can use, such as telekinesis, transmuting objects, and fixing minor messes.
Trivia
The name Lavigne is a French surname that literally means "the vine" or "the vineyard."
Gallery
Ad blocker interference detected!
Wikia is a free-to-use site that makes money from advertising. We have a modified experience for viewers using ad blockers

Wikia is not accessible if you've made further modifications. Remove the custom ad blocker rule(s) and the page will load as expected.