Knut
Talk

1
1,680pages on
this wiki
An arena packed with beauty queens... I'm scared to go in there.

This article is a C. It is missing three or more sections and has little to no imagery. Anything that can be added will be appreciated highly.
Knut

Voiced By

First Appearance

Last Appearance

Affiliation(s)
Knut is an ogre. He is more strong than smart. Also, he has lousy eyesight, so he needs to wear glasses all the time. Knut used to work for the Trix, even though no pets are allowed at Cloud Tower, but at the end of Season 1, Knut defected, and is now a janitor at Alfea.
Appearance
Knut's skin is yellow with a red tracksuit. In the Nick version, Knut had hair on his chest, slightly skinny, loose tracksuit and a wrinkly face.He is quite large, and has hair on his face.
Personality
Knut was a wicked ogre aggressive attitude but soon after, it became a noble, fearful and good. At first I was very loyal to the Trix and had been working for them verbally but considered it a futile and foolish. It does not say anything when they are hidden from anyone. Fears nothing of the Trix and their orders, but when they took over the magical dimension, the fears of the three witches and decided to flee with Pepe in Red Fountain. Knut is the nerve showed when he decides to go to Alfea and personal concierge stay. On one occasion when it became Timmy Trix, Knut knows not say the name of Riven  and still had a lot of nervousness.
In the third, it seems very confused to see Stella as a beast and falls for her which Brandon explains his misunderstanding.
Series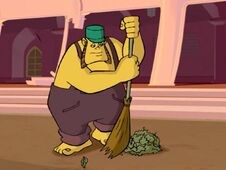 Knut attacked
Stella
in "
An Unexpected Event
".
Bloom
used her first spells on him and his ghouls.
When Bloom returns to Gardenia, he was working with the Trix to get the Dragon Flame. In later episodes, he claims he doesn't like the Army of Darkness and joins the Fairies and Specialists.
Knut makes a few cameos in Season 2.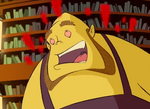 In season three after the princess ball when Stella gets turned into a monster it is shown that he develops a crush on Stella's monster form. And when she is talking about Brandon, he thought she meant himself.
Trivia
In the 4Kids dub Knut is from the ogre realm.
Knut has had two jobs in the series, first being the Trix' servant (formerly) and being Alfea's janitor (presently).
Knut's appearance changes during the specials. He becomes more fearsome with chest hair, fangs, and more detailed overalls.