Knut
Talk

1
1,140pages on
this wiki
An arena packed with beauty queens... I'm scared to go in there.

This article is a C. It is missing three or more sections and has little to no imagery. Anything that can be added will be appreciated highly.
Style is always in style!

This Page needs help, please consult the talk page or the project leader for this article. You can also take a look at the standards for help.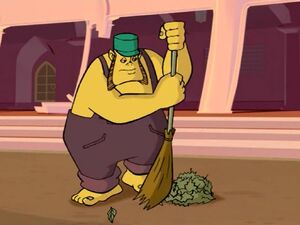 Knut is an ogre. He is more strong than smart. Also he has lousy eyesight, so he needs to wear glasses all the time. Knut used to work for the Trix even though no pets are allowed at Cloudtower, but at the end of Season 1, Knut defected and now he's a janitor at Alfea. He was voiced by Roberto Draghetti (1st voice; Italian), Stefano Billi (2nd voice, Italian), Marc Thompson (4Kids Entertainment) and Stoney Emshwiller (Nickelodeon).
Appearence
Knut's skin is yellow with a red tracksuit. In the Nick version, Knut had hair on his chest, slightly skinny, loose tracksuit and a wrinkly face.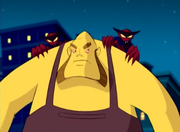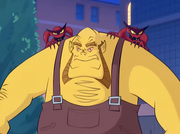 Seasons
Knut attacked Stella in "An Unexpected Event". Bloom used her first spells on him and his ghouls.
And when Bloom comes into Gardenia, he was working for the Trix, to get the Dragon Flame. But when they get stronger monsters, he goes to Alfea.
Knut makes a few cameos in season 2.
In season three after the princess ball when Stella gets turned into a monster it is shown that he develops a crush on Stella's monster form. And when she is talking about Brandon, he thought she meant himself.
Knut doesn't appear, probably because most of the season is set in Gardenia.
Trivia
According to Knut, he's from the ogre realm.
Knut has had two jobs in the series, first being the Trix' servant (formerly) and being Alfea's janitor (presently).
Knut's appearance changes during the specials. He becomes more fearsome with chest hair, fangs, and more detailed overalls.
Knut needs to wear glasses to see well, but he often forgets to wear them.