If You're a Winx
 is the closing song of the 
Cinélume
version of the
third season
.
Lyrics
If you're a Winx
There's a place for you
Meet a thousand friends
To share your dreams and faith

If you're a Winx
You can never lose
If you trust your heart
You will then fly so high in the sky
Butterfly wings will carry you
Amazing adventures wait for you

Dreams beyond your illusions
Will soon come true
(Will soon come true)
Secret worlds to discover ahead of you
Like a giant wave you rode
In the hearts of those whom you love

If you're a Winx
You can be a star
The sun will guide your way
Just like a blooming flower

If you're a Winx
Like an ecstasy
It's always gonna be
Joy and hope you'll bring
Incredible things you've never seen
Amazing sensations to be lived with Winx
Trivia
Videos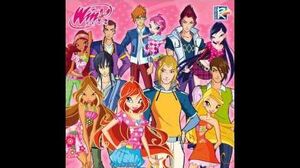 Ad blocker interference detected!
Wikia is a free-to-use site that makes money from advertising. We have a modified experience for viewers using ad blockers

Wikia is not accessible if you've made further modifications. Remove the custom ad blocker rule(s) and the page will load as expected.