Wow, did I just say that?

This article is a B. It is missing three or fewer sections, or some images need to be added. Please do what you can to help!
Helia is Flora's boyfriend and Saladin's grandson (nephew in the 4Kids and Cinélume versions). He is an art student as well as an excellent pilot and shows great strength. He is a pacifist, just like his girlfriend, Flora.
Appearance
Personality
Out of all the Specialists, Helia is the most mature. Once being described by Brandon as being a pacifist, he loves writing poems, drawing, and romance. He is calm and does not have a temper, he is also very encouraging and he will never get jealous. He is very artistic and he is not afraid of making important decisions and doing what is right, even if his friends disagree with him. He is very daring at times, such as the time he kissed Flora in Darkar's Realm. Helia is also not afraid to voice his thoughts, as shown in Season 3 when he berated Riven for his behavior and if he continues he will lose Musa, and in Season 4, when he acts as a medium, like Nabu, between Sky and Bloom, or Musa and Riven. Another example, was when Diana allowed nature to terrorize the citizens of Gardenia, as punishment for destroying nature, Helia tries in vain to explain that not all humans disrespect nature and that destruction is not the answer.
Like Flora (and Timmy, though to a lesser extent), Helia is also rather shy. This can be seen when he had just as much trouble expressing his feelings for Flora as she did.
He also has a lot of faith and belief in Flora, persuading her to trust herself such as when she tried to heal the Flower of Life, and when she tried to free herself from the roots cast by Diana. He also openly expresses his strong belief in her for example when she wrapped Anagan up in vines he stated proudly, "Flora's magic is really strong, he's not getting out of that anytime soon."
Like Nabu, Helia is very open-minded and understanding, and therefore, he does not jump to conclusions. This can be seen when Riven got jealous of Musa getting attention from Andy and his band, when in fact their love for music  installed a great bond between them, which is only natural.
Pre-Series
Series
Seasons
Specials
The Shadow Phoenix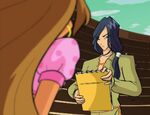 He appeared when the Winx visit
Red Fountain
and was seen drawing a flower.
Flora
soon develops a crush on him and wrote his name on her book. Helia also seems to like her and draws a portrait of her. Because of that, Flora does not consent in
potion class
after dreaming about being married to Helia. He also appeared with the Winx and Specialists to save
Bloom
from
Darkar
's ritual.
Movies
Skills
Helia has a certain amount of strength as evidenced by the time he was able to single handily hold off a Leodragerus with his string glove on one hand. Further evidence is shown when he struggles to pull Sky's damaged fighter craft Red Wing into the hanger of the flying ship without being held down to anything.
In the "The Shaab Stone" arc in the monthly magazines, Helia is shown as a proficient double agent, capable of investigating real fights to fake an alibi, faking an expulsion from Red Fountain and lying to everyone, even Flora, to break into Alfea's administration to steal documents to trick a crime boss into opening the vault holding the Shaab Stone, from which he can steal. He lies with a heavy heart though and reveals all the deceptions, hoping that he can start anew with Flora. He is skilled in martial arts and espionage.
Helia is never shown riding a levi-bike until Season 5. Some would say that he is shy, but that is only due to his lack of major speaking parts or involvement to the plot in Season 2 and Season 3.
Trivia
Helia is a Greek female name meaning "Sun".

Helia is also the name of one of the Heliades, the daughters of Helios, the God of the Sun in Greek Mythology.
It should be noted that the name "Helia" is a feminine name in Greek (Ηλία). Its masculine Greek form would be "Helios" (Ἥλιος), who is the "God of the Sun" and which has the same meaning: "Sun". Its masculine forms in Spanish and in Portuguese would respectively be "Helios" and "Hélio" these forms are used as his name in one of the South American dubs where the use of Roman Languages is dominant and the feminine/masculine role plays a large part in language.

He is the only Specialist with a Greek female name.

As he is a Specialist with a Greek female name, it could also be a fact that he was supposed to be a girl, referring also to his long, blue hair, but was probably changed to a boy so Flora could have a boyfriend.

Helia attended art school before re-attending Red Fountain.
Helia is a talented artist.
In Season 2, both he and Flora were scared to admit their love for each other, until Flora tells him first.
Both Flora and Helia love nature.
He seems to be unusually strong as he had been seen holding huge monsters down with his cable gauntlets as well as tow in an entire Red Fountain ship with his gauntlets.
Both in the Cinelume version and the 4Kids version, Helia is Saladin's nephew, but is Saladin's grandson in the original Italian version.
Helia's laser cable gauntlets are similar to the weapon used by the character Walter C. Dornez from the series Hellsing.
In The Secret of the Lost Kingdom, his hair color changed from black to gray.

But in Season 4, his hair color has returned to black. 

In Winx Club 3D: Magical Adventure, Helia's hairstyle is similar to his original hairstyle from the second and third seasons, while he changed his hairstyle in the Episode 6 of Season 4, shortly before the girls earned their Believix at the end of the same episode.
His name in the Latin American dub was changed to Helio.
Like Stella is among the Winx, Helia is the oldest of the Specialists. He attended Red Fountain before the other specialists did, but he dropped out to go to an art school.
It is strongly suggested that Helia originated from Linphea.

In one comic issue of the Winx magazine, when Flora was telling her sister Miele about Helia, she said they used to play together in flower fields on Linphea when they were children.

There is however, a bit of a plot hole with this fact as Brandon had to formally introduce Helia to Flora in Season 2. They appeared to not have known each other beforehand, or they could have acknowledged this off camera.

Helia is the only specialist to go inside the Legendarium World.
Helia and Sky are the only Specialists to change their hairstyles.
Brandon mentions in Season 2 that Helia is a pacifist. A pacifist is a man who in principle rejects the war. In fact, he never hurts his opponents, but always keeps them with his laser string glove.