Winx Club Forever

This page is completed. Please do not add any categories, pictures or any edits!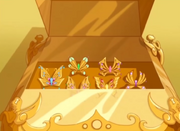 The
Hall of Enchantment
is a secret library inside
Alfea
. It is located behind
Faragonda
's mirror and is found at the heart of the castle of Alfea.
Series
In "The Fairy Hunters", she showed the Winx a chest looking like the Agador Box containing six golden pairs of Enchantix wings. These wings are the key to the Hall of Enchantment.
In there, Faragonda gives the Great Book of Fairies to the Winx, containing everything a fairy must know, including everything about Fairies and their powers, Believix, Higher Level Transformations and the History of all the Fairies of the Universe, as well as that of the Earth Fairies.
Bloom looks around, and finds a part of the hall which contains paintings of every single villain to have appeared in the series as well as several unknown evil beings: The Ancestresses, the Trix, Darkar, Valtor and 4 men Bloom did not know. Faragonda mentions this part of the Hall as containing portrays of all the enemies of Magix and of the Magic Dimension; the Shadows of Magix. The painting of these men was covered, but when Bloom discovered it, Faragonda took her to the other Winx. But then one of the men's eyes glowed, showing the men would soon reappear in the Magic Dimension/the Universe.
Ad blocker interference detected!
Wikia is a free-to-use site that makes money from advertising. We have a modified experience for viewers using ad blockers

Wikia is not accessible if you've made further modifications. Remove the custom ad blocker rule(s) and the page will load as expected.