Wow, did I just say that?

This article is a B. This article is a B, meaning it is missing three or fewer sections, or some images need to be added. Please do what you can to help!
Hagen is the master swordsmith of indestructible swords. His character is proud and hardened by grief at the disappearance of his friends of the Company of Light. After that event, for centuries he had been locked up in a castle far away from the world, without contact with civilization. He is wise, severe, very strong and courageous even if in the first instance appears to be a little evil. He is the headmaster of the blacksmiths college in Hoggar.
Appearance
Hagen has brown eyes, thick black eyebrows, and a long white beard and mustache.
More Coming Soon...
Personality
Hagen seems to be gruff, very rough and tough at first but he has a soft side. He is very wise and strong and does not give up easily as shown when he tried to find Oritel. He prefers to be alone as shown in the first movie, where he lives in a secluded area. He has a minor crush on Faragonda and is especially nice to her.
Series
Seasons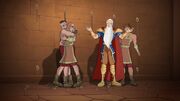 In the "Legendary Duel", Hagen was seen being attacked by the Trix.
In "Winx Forever", Hagen was seen being released from his chains.
Movies
He is shown in this movie, where Bloom claims he made her father's sword. Bloom thought that Hagen would be able to help her find her father since Hagen could always sense the swords he made. Hagen regretfully told her that he'd tried using his ability to find Oritel for a long time, but gave up in despair.
He has a little crush on Faragonda and tried to help her walk after she hurts her leg.
He has returned to Hoggar after the events of this movie, since he does not appear until Season 6.
Trivia
Ad blocker interference detected!
Wikia is a free-to-use site that makes money from advertising. We have a modified experience for viewers using ad blockers

Wikia is not accessible if you've made further modifications. Remove the custom ad blocker rule(s) and the page will load as expected.