Wow, did I just say that?

This article is a B. This article is a B, meaning it is missing three or fewer sections, or some images need to be added. Please do what you can to help!
Griffin is the Headmistress (or "Headwitchstress") of Cloud Tower, a member of the Company of Light, and a considerably powerful witch. Although she started off as somewhat of an antagonist, indirectly encouraging the Trix in their power-struggle against the Winx, Griffin was eventually revealed to be a woman of sound moral principles, and aided the Winx numerous times in their fight against the forces of evil.
Appearance
Personality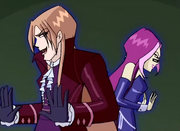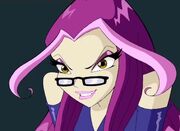 Despite her stern, no-nonsense and seemingly indifferent demeanor, Griffin is genuinely a caring Headmistress who would defend her students willingly if threatened. She also has a humorous streak to her personality, when she joyfully stated that she would have defeated
Faragonda
and
Saladin
had
Valtor
's illusion spell continued in "
The Wizards' Trap
".
In Season 3, it is revealed that as a young witch, she had once teamed up with Valtor to work for the Ancestral Witches. At some point her conscience caught up with her and tried to flee. She was saved by Faragonda, with who she apparently was already friends with even when she served the Ancestresses, and went on to help defend the planet Domino alongside Headmistress Faragonda and Headmaster Saladin as part of the Company of Light. Griffin is one of the three points of magic, the others being Faragonda and Saladin. Griffin is powerful but Valtor did defeat her at times.
Series
Seasons
Specials
Movies
Magical Abilities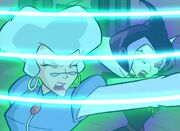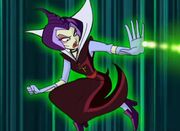 Being the Headmistress of Cloud Tower and also one of the Three Points of Magic, Griffin is apparently a powerful witch. She was able to open massive portal or tunnels for teleportation, creating magical barriers, and also using her magic to shoot powerful magic blasts that can even knock down the Dragon Flame-powered Trix sisters. She can even converge her magic with Faragonda, who is a fairy, to cast powerful spells to destroy enemies. This feat is almost impossible to achieve by normal standards as usually a fairy wasn't able to converge her power with a witch, specifically. Her level of magical strength is assumed as being on par with Saladin and Faragonda, the other heads of magical schools in Magix.
Uses of Magic
Trivia
The Griffin is a legendary creature from Greek mythology depicted as having the body of a lion and the head, wings and front legs of an eagle. The griffin of Greek mythology was itself inspired by similar creatures from many other ancient mythologies, where they were thought to protect from evil, witchcraft and evil slander. In medieval folklore, its claws were said to have medicinal powers, and that its feathers the ability to give their sight back to the blind.
The young Griffin looks slightly similar to Darcy.
Griffin was revealed that she once helped Valtor at the Winx Club's first Movie.
She is less antagonistic in the Nick dub.
In the 4Kids dub she elaborates on the reason for her defection from the ancestral witches (she wasn't willing to commit mass murder).
In the 4Kids version, it was stated that Faragonda and Griffin were in the same grade level when they attended Alfea and Cloud Tower respectively.

It is also mentioned that Ediltrude attended the Cloud Tower around the same time as Griffin.

In the specials, she did not expel the Trix like she did originally.
Ad blocker interference detected!
Wikia is a free-to-use site that makes money from advertising. We have a modified experience for viewers using ad blockers

Wikia is not accessible if you've made further modifications. Remove the custom ad blocker rule(s) and the page will load as expected.