Winx Club Forever

This page is completed. Please do not add any categories, pictures or any edits!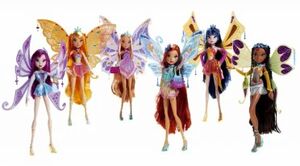 Glam Magic is a 2006 Winx Club doll line created by Mattel. The line features the girls in their Enchantix form.
Descriptions
Glam Magic Dolls
The fairies are transformed with a new fabulous look! 2 sets of wings! Collect.
Glam Magic Dressing Room
Every fairy needs the perfect dressing room after a long day of doing good deeds! The coolest place for the girls to hang out and get ready is the Winx Club Glam Magic Dressing Room. Comes with a mirror and a throne that transforms into a vanity dressing table. Comes with Bloom of Winx Club doll in her enchanted fairy outfit with wings and lots of detailed accessories, purses, shoes and jewelry. Ages 4 and up.
Features
1 doll with fashion.
1 pair of shoes and arm glove.
2 pairs of wings.
1 mirror and comb.
1 bag.
Dolls
Aisha
Aisha's long brown hair is left loose with only two small strands (on the front) that are plaited. She wears a blue headband on top of her head. Her tube top is green with pink material and blue-green netting on the bottom. Her skirt is made of shiny material with a neon green belt and silver netting. Her blue shoes have small jewel like decorations on the 4 straps. Aisha's wings are green tinted with sparkling pink glitter in the middle, small gems hang on the corner of the top wings. Aisha also comes with: another pair of green wings (with silver sparkly material in the middle), a green bag, a neon green comb and mirror.
Bloom
Bloom's hair is mostly let loose, however some strands are tied up. On her neck, she wears a thin blue necklace with a small gem. Her sparkly dress is made of a blue top and a gold miniskirt with four layers of material on top. The first two layers are blue and the second two layers are yellow. Bloom's shoes are light blue colored and have small straps with gems on them. Her blue wings have sparkly silver glitter in the middle and purple gems hanging on the edges of the wings. Bloom also comes with: another pair of wings (that are more sparkly), blue earrings, flower hair clips, blue-pink tie dye bag, purple comb and mirror.
Flora
Flora's honey brown hair is left loose with two strands that are plaited, and two strands that are dyed blonde. Her halterneck dress is made up of a stripy top and pink netting skirt. An extra layer of pink netting, is put on top of the dress with purple sparkles on it. Her gloves are a similar pink color to the netting. Flora's shoes are neon blue with small straps that have gems on them. Her wings have pink glitter and green gems hanging down on the edges. Flora also comes with: another pair of wings (that are silver and pink), neon fuchsia bag (with blue handles), pink mirror and comb.
Musa
Musa's dark blue locks are left loose, with only two strands that are tied up with flowery hairbands. A small purple crown with yellow gems is worn on her head. Her orange tube top is decorated with sparkly red lining and yellow netting that is bunched up to look like a flower. Her puffy skirt is made up of red, orange, yellow and pink-purple netting. The skirt is tied with yellow ribbon. Her gel like shoes have yellow straps with jewel like decorations on them. Musa's gloves are made up of pink netting. Her wings are yellow tinted with purple gems that hang on the top of her wings. Musa's accessories consist of: another pair of yellow wings, purple bag (with a yellow bow and handles), pink mirror and comb.
Stella
Stella's hair is left loose with a few strands (of her blonde locks) that are curled. A small blue tiara with orange gems is worn on her head. She wears a orange wrap styled top with blue and white netting on the bottom. Her skirt is made up of netting that is orange and pink colored. The skirt also has a sewn on small blue belt. Stella's shoes are gel like blue with jewel straps. Her wings are orange tinted with blue jewels and gems hanging from the edges. For accessories: Stella has a small blue necklace and blue netting gloves. Stella also comes with: another pair of wings (with orange and silver colors), a see through orange bag (with dark orange handles), orange comb and mirror.
Tecna
Tecna's purple hair is longer than usual and it's streaked with pink highlights. She wears a small purple tube top and matching shorts underneath a shimmery blue dress. The dress is made out o shiny material with silver sparkles and a flower gem to keep the dress in place. On her feet, Tecna wears a pair of yellow-green strap shoes with a strawberry like gem for decoration. Tecna's gloves are made from pretty blue netting and her neon green necklace has a grape charm. Her purple and silver glittery wings have pink-purple gems hanging on the edges. Tecna also comes with: another pair of wings (which has more silver material), green hairclip, neon purple bag, pink-purple mirror and comb.
Dressing Room Bloom
Bloom's hair is left loose with only a few strands that are curled and tied up. She wears a halterneck dress that is made up of silver sparkly material. The dress it tied at the top with a small purple ribbon in the style of a bow. On the bottom of the dress, there is pink netting attached all around the skirt. Bloom's high heeled shoes are a pink color.
Playsets
Glam Magic Dressing Room
The Glam Magic Dressing Room is a play set that features:
an enchanting pink three mirror with anastigmat design.
a purple chair with leopard print cushion
pink & purple shelves
purple stand (that holds wings)
2 pairs of shoes
2 pairs of bags
3 necklaces
1 comb
5 beauty products.
Gallery