An arena packed with beauty queens... I'm scared to go in there.

This article is a C. It is missing three or more sections and has little to no imagery. Anything that can be added will be appreciated highly.
Ginger is Stella's fairy pet, a teacup poodle.
Personality
Very pampered, Ginger just loves new outfits or accessories. She is very similar to Stella in terms of being more concerned for her appearance then anything else. Like Milly, she usually fights for Kiko's attention.
Appearance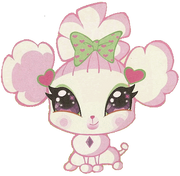 Ginger is a light pink poodle with purple eyes. She wears pink heart-shaped clips by her puffed ears and a green bow with tiny hearts all over it pulling a puff of hair up in the center of her head. At her chest is a small purple diamond. Her wings are yellow.
Series
Season 4
Ginger was a plush doll headed for the trash in one of the girls' jobs until Flora used some of her magic to bring them to life. Since then, she makes occasional appearances, typically with Stella at the Love & Pet store. She was also seen with Kiko during Roxy's fight with Gantlos.
Comics
#60: Future Adventures
Coming Soon...