Winx Club Forever

This page is completed. Please do not add any categories, pictures or any edits!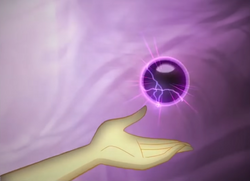 The
Gift of Darkness
(or the
Black Gift)
is the third and final
Gift of Destiny
. It has power to restore life to the deceased, but can only be used once.
Overview
The Gift of Darkness was said by the Ethereal Fairies to be the most dangerous of the Gifts of Destiny, and that is because it can only be used once to revive a single person. It is for this reason that no one wants to use it. It is said by Sibylla that the Gift of Darkness is the most terrifying as well as the most beautiful of the Gifts of Destiny.
Appearance
It is a dark sphere, with a black and purple electric aura. There are purple bolts that crackle around it.
Usage
Trivia
Though it is said it can only be used on a person, Ogron uses it on a flower.
Gallery
Ad blocker interference detected!
Wikia is a free-to-use site that makes money from advertising. We have a modified experience for viewers using ad blockers

Wikia is not accessible if you've made further modifications. Remove the custom ad blocker rule(s) and the page will load as expected.