Faragonda
Talk

10
1,721pages on
this wiki
Kind of, but we have better style.

This Article is an A! This article has all the sections and images in place, making it complete.
Headmistress Faragonda

Voiced by

Age

Over 100

Origin

Unknown

Affiliation(s)

Powers and Abilities

Various

First Appearance
Faragonda is the Headmistress of Alfea College for Fairies, of which she was once a student herself. She played a major role in helping Bloom to discover her past and her true powers. Faragonda was also a member of the Company of Light.
Appearance
Faragonda is possibly an elderly fairy judging from her hair. She has short curly hair and gold hoop earrings. She also wears black horn-rimmed glasses with sky blue lenses. She wears a long sleeved pink shirt with ruffles at the tips and a navy blue vest with a white trim, puffed sleeves, and a single violet button. She wears a long pink skirt with ruffles near her ankles. Her shoes are black high heels with yellow buckles.
Personality
Faragonda is a kind soul who cares for her students, but she will not put up with nonsense and will dispense discipline when needed. She teaches Convergence to the fairies of Alfea.
Her relationship with
Griffin
, the Headmistress of
Cloud Tower
, is a strange mixture of true friendship and slight rivalry. In
Season 3
, it is revealed that this odd relationship is because they and
Headmaster Saladin
of
Red Fountain
had worked together as part of the
Company of Light
to help defend the planet of
Domino
from the
Ancestral Witches
and
Valtor
. However, Faragonda was
not present during the final battle with the Witches as all the magical strength of most of the members of the Company had been exhausted, which is why she was not able to tell Bloom exactly what happened to her parents. Faragonda was friends with
Bloom
's parents, King
Oritel
and Queen
Marion
of Domino (also members of the Company of Light), and was deeply disturbed by their disappearance.
She also has a strong connection with each of the Winx girls, for example, by stating that she was very proud of Flora when she healed the Flower of Life in Pixie Village.
Faragonda is one of the three points of magic, the other two being Griffin and Saladin.
Series
Pre-Series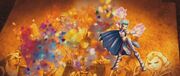 Faragonda was once friends with
Griffin
. She was a
witch
like Griffin yet she later became a hybrid
fairy
(similar to
Mirta
). Faragonda, Griffin, and
Saladin
were part of the
Company of Light
that protected
Domino
along with
Oritel
and
Marion
,
Bloom
's parents. However the Company was dissolved when the
Ancestral Witches
destroyed Domino. Faragonda then became the Headmistress of
Alfea
.
Seasons
Specials
As Bloom and Stella entered Alfea, they were spotted as Griselda questions Bloom's appearance to the fairy school. Faragonda explains to Griselda that she is on her list and welcomes the new students to Alfea and gives her welcoming speech, including warning the fairies about witches of Cloud Tower and that classes start at eight o'clock.
Since the Winx were in charge of cleaning duty and is to be done without their powers, they had to deal with the Trix and the cretan minotaur while the rest of school went out. Faragonda returns to her office to find the Trix, the Specialists and the Winx in her office. After seeing the boys off, Faragonda scolds the witches and tells them that she will be notifying Griffin and sends them on their way. After that, Faragonda was pleased at how the Winx handled their situation and returned their powers.
Faragonda comes into the library to stop the books from bothering Bloom as she was doing research on Daphne. After Bloom leaves, Faragonda picks up one of the books and seeing as they contain information about Daphne she orders Barbatea to put the books away and close the library. To explains to a shocked Barbatea that there are powerful forces working at hand.
After spring break is over, Faragonda calls Bloom into her office and shows her a vivid vision of Daphne and Lake Roccaluce but is exhausted after the ordeal.
Faragonda, along with Saladin and Griffin, witnesses Bloom's battle with Diaspro and her devastation after finding out about Sky's engagement. She asked for forgiveness from Saladin as her student disrupts his exhibition.
Movies
In this movie, Faragonda is first seen teleporting to Hagen's castle in Hoggar to save the Winx Club. She is later seen when she is in her office telling Hagen that they may be a way to help Bloom save her parents and Domino.Faragonda also was in the battle against Mandragora and her insects. She used a powerful spell sending Mandragora to Obsidian.
Faragonda is first seen welcoming all the new fairies and witches that would attend Cloud Tower and Alfea that year with a celebration. After Trix departure, Faragonda helps transformed fairies to regain their human form. She also checks if the Winx are alright so she tells them to stay in Gardenia right after positive magic disappearance.
Magical Abilities
Faragonda seems to be very powerful as she was able to help defeat Valtor and Darkar. She never transformed, and it is unknown what her power is. She is an Enchantix fairy, according to Griffin. She can create illusions, shields, and magical energy blasts. It is also seen that she can use spells that can boost the strength of the target.
Faragonda is a powerful fairy, and combined with Saladin and Griffin, who are pairing with her, they are able to cast powerful spells together.
Faragonda's element seems to be nature related as spells she uses are usually green colored. She has created shields powerful enough to block Valtor's spells and can shoot energy that can send Valtor fly through several trees.
Trivia
Larisa Oleynik voices for both Faragonda and Icy. Icy is cold and evil. Faragonda is kind-hearted and good-natured.
Her personality and role of helping Bloom on her quests is similar to that of Albus Dumbledore from the Harry Potter series.
Her attire and hair style have been changed in Season 6.
She is often referred to as "Miss Faragonda" meaning that Faragonda is likely her surname.
Faragonda's voice actress also plays the Narrator part in the Nickelodeon dub.
In the third movie, Bloom calls her "Principal Faragonda" instead of "headmistress".