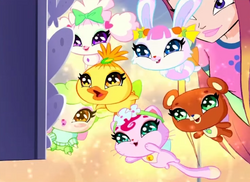 The
Fairy Pets
are magical creatures introduced in
Season 4
.
Overview
After Flora brought discarded toys to life and gave them wings, the Winx opened Love & Pet and a corresponding website and started to give Fairy Pets to Gardenia in order to bring magic back to Earth.
The Love & Pet Animals
Families
Ginger - Ginger is Stella's pet. She is a female pink poodle with purple eyes, a green bow pulling back her hair and two hot pink heart-shaped hair ties around her ears. She is very pampered and loves new outfits much like Stella. Like Milly, she also fights for Kiko's attention. She plays guitar.
Elvis - male poodle, plays drums.
Fiona - female dog, plays guitar
Vob - male dog, plays guitar
Chloe - female dalmatian, sings
Gino - male dalmatian, plays keyboard
Coco - Coco is Flora's pet. She is a pink cat with green eyes, hot pink hair and a green headband with white flowers. Like Flora, she loves plants and lots of cuddling with those around her.
Eric - Male cat
Rosa - female furry cat
Jeremy - male furry cat
Lily - female green cat
Tony - male green cat
Series
Season 4
Ad blocker interference detected!
Wikia is a free-to-use site that makes money from advertising. We have a modified experience for viewers using ad blockers

Wikia is not accessible if you've made further modifications. Remove the custom ad blocker rule(s) and the page will load as expected.