Winx Club Forever

This page is completed. Please do not add any categories, pictures or any edits!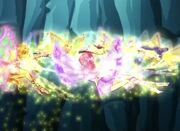 Fairy Dust
is a special additional
Enchantix
power. It is contained in the
Enchantix
wings, as well as their
Enchantix
pendants or a necklace around their necks. A Fairy can use the dust on their wings or the dust in the fairy dust bottle.
Magical Abilities
Negate/Undo dark spells - Most commonly used fairy dust power.
Healing power - Used by Musa to give back Bloom's strength in the Omega Dimension; Aisha used to to cure her blindness after returning from Andros.
Remove dark qualities from a person's heart and helps the girls unlock their miniaturization.
Transformation Sequences
Most of the sequences have the bottle going through its own transformation as the jewels are added/removed and then the girl playing with/picking up the bottle, twirling a few times, and then creating a shape with the powder, each in a different color.
Gallery
Ad blocker interference detected!
Wikia is a free-to-use site that makes money from advertising. We have a modified experience for viewers using ad blockers

Wikia is not accessible if you've made further modifications. Remove the custom ad blocker rule(s) and the page will load as expected.