Winx Club Forever

This page is completed. Please do not add any categories, pictures or any edits!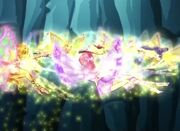 Fairy Dust
is a special additional
Enchantix
power. It is contained in a fairy's
Enchantix
wings, as well as their fairy dust bottle worn around their neck. Fairy dust has many uses in the series.
Magical Abilities
Negate/undo dark spells - Most commonly used fairy dust power.
Healing power - Used by Musa to give back Bloom's strength in the Omega Dimension; Aisha used to to cure her blindness after returning from Andros.
Remove dark qualities from a person's heart and helps the girls unlock their miniaturization.
Cast or enhance spells - First shown by Stella and Flora when battling the Omega Dimension monsters on Andros.
Transformation Sequences
Most of the sequences have the bottle going through its own transformation as the jewels are added/removed and then the fairy playing with/picking up the bottle, twirling a few times, and then creating a shape with the powder, each in a different color.
Gallery
Ad blocker interference detected!
Wikia is a free-to-use site that makes money from advertising. We have a modified experience for viewers using ad blockers

Wikia is not accessible if you've made further modifications. Remove the custom ad blocker rule(s) and the page will load as expected.