I'll catch you on the download!

This article is a stub. You can help Winx Club Wiki by expanding it. Make sure to check the standards before editing.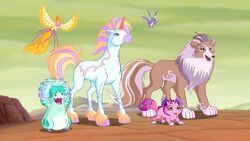 The
Fairy Animals
are magical creatures that appear in
Season 7
.
Overview
There are many species of Fairy Animals though the accurate number still remains unknown. Each Fairy Animal is a unique creature, with a special power or talent necessary to maintain the balance of the Magic Dimension.
Many Fairy Animals live peacefully, safe from any threat, in the Alfea Natural Park, which Faragonda created to protect them. Some Fairy Animals are extinct in their native worlds. Fairy Animals can bond with fairies.
Types of Fairy Animals
Pre-Series
Ad blocker interference detected!
Wikia is a free-to-use site that makes money from advertising. We have a modified experience for viewers using ad blockers

Wikia is not accessible if you've made further modifications. Remove the custom ad blocker rule(s) and the page will load as expected.