Winx Club Forever

This article has been completed. Please do not add any categories, pictures, or edits!
Eraklyon Institute is an institute for fairies in Eraklyon. Diaspro and Lazuli attend this school.
Overview
The institution appears to be settled on top of a mountain surrounded by many trees. The entrance are formed by half walls that leads through an open archway and four sectors of rows of well-trimmed bushes. The entire structure forms a slight arch, with a gold roof, three towers, many windows and light purple walls.
Series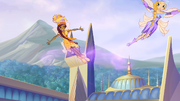 At the end of the episode "
The Golden Auditorium
", the
Trix
attack the school and conquer it.
Fairies
are seen flying away in fear. Afterwards,
Diaspro
presents herself in front of the Trix and offers her assistance.
In "Winx Forever", Selina destroys the Dragon Fossil in Cloud Tower, which returns the magic absorbed by the Trix from Eraklyon Institute.
Known Students
Ad blocker interference detected!
Wikia is a free-to-use site that makes money from advertising. We have a modified experience for viewers using ad blockers

Wikia is not accessible if you've made further modifications. Remove the custom ad blocker rule(s) and the page will load as expected.