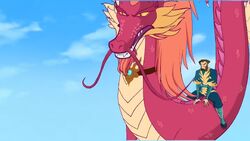 Dragons
are magical creatures introduced in
Season 1
.
History
Long ago a very powerful dragon-like creature called the Great Dragon created the Magic Dimension using its powers. Its powers survived and passed down to the Royal Family of the Kingdom of Domino. However the Great Dragon is not a real dragon, it is a god-like creature made of energy shaped like a dragon.
Overview
They are large quadruped scaly animals. Some species have wings on their backs while some are flightless and most dragons have horns on their heads and can breath fire. Most dragons are carnivores but some herbivorous dragons also exist.
Types
There are many types of dragons in the Magic Dimension:
Series
Seasons
Games
Winx Club
Ad blocker interference detected!
Wikia is a free-to-use site that makes money from advertising. We have a modified experience for viewers using ad blockers

Wikia is not accessible if you've made further modifications. Remove the custom ad blocker rule(s) and the page will load as expected.