Disenchantix
Talk

7
1,156pages on
this wiki
I'll catch you on the download!

This article is a stub. You can help Winx Club Wiki by expanding it. Make sure to check the standards before editing.
Disenchantix

User(s)

Icy, Darcy & Stormy

Form(s)

Witch Form

Type

Special
Disenchantix was a witch form that Valtor gave to the Trix. Even though it seemed powerful, the Winx defeated the Trix and their Disenchantix easily. It is only seen in "Witches' Revelation."
Name
Valtor called it "Disenchantix" as it is a power to defeat the Winx girls' Enchantix . By adding the prefix (dis- ), it means the opposite of Enchantix. In the Nick Dub, the name was never revealed.
Appearance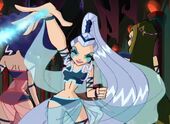 The Trix have even more make-up effects and swimsuit-like outfits with some sort of color trims, gains boots, some bands on their arms and left leg and some jeweled head bands and a lot of eyeshadow. They have semi-transparent shawls wrapped around their hips with bands around their left mid-thighs. They also wear knee-high boots. They also seem to all be wearing tiaras, which could also be crowns. Unlike Enchantix, which varies from fairy to fairy, Disenchantix seems to have a very similar outfit for all witches, with different color trimmings.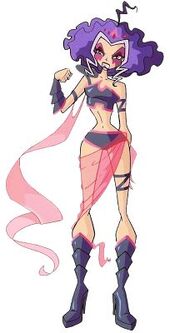 Gallery