Kind of, but we have better style.

This Article is an A! It has all the sections and images in place, making it complete.
Princess Diaspro is the former arranged fiancée of Sky. 
Appearance
Personality
Pre-Series
At some point in her life, Diaspro was betrothed to Prince Sky, mostly for political reasons. To prepare herself to become the future Queen of Eraklyon, Diaspro practiced and perfected all manners of etiquette and protocol. Diaspro herself was overjoyed to be promised to the man she loved but failed to see that Sky did not feel the same as she did.
Series
Seasons
Specials
Revenge of the Trix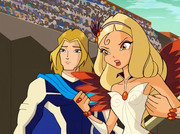 Inside a hallway of Red Fountain, Diaspro drags Sky to a more private room to inquire him about what he had just told her: that he loves someone else. Diaspro's eyes shine with fury, hoping that it was just a joke only to be told by Sky that he was serious. She tries to sway him back to her but he does not relent and stands by his words.
Diaspro is then confronted by Bloom who falsely accuses her of something she had no involvement in. Bloom then assaults her, causing them to engage in a heated battle that Diaspro ultimately lost. When she latches onto Sky for comfort, Diaspro angrily reveals that Sky is her fiancé, devastating Bloom in the process. Unfortunately, Diaspro also sees that Sky cares more about Bloom than herself and is greatly upset by the fact that Bloom was the one he fell in love with.
Comics
Magical Abilities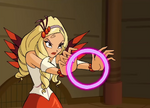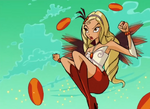 As the Fairy of Gemlight or Gemstones, Diaspro has gem-based powers. Diaspro has the ability to control gems and precious jewels. Diaspro can create shields, gems, and rings that can restrain her opponent. She can also encase an enemy in a transparent crystal formation.
Through her knowledge of gems and jewelry, Diaspro knows how to bring out anyone's inner beauty. She prefers and knows gems more than anyone else.
Uses of Magic
Transformation Sequences
Trivia
Her name is the Italian word for Jasper, which is widely used as a gemstone.

Her name is also similar to the gemstone diaspore, which comes from the greek word diaspora, meaning shattering.

In 4Kids, her powers were more specifically stated as quartz - the second most abundant mineral on Earth.
In the specials, the scene where Bloom learns that Sky is Diaspro's boyfriend is very different from the original.
Diaspro's realm in the 4Kids dub, Isis, is named after the Egyptian goddess of magic and fertility. In the Nickelodeon dub, Diaspro mentions that she is from Eraklyon like Sky in Season 5.

Sky's guardian resembles Diaspro in The Secret of the Lost Kingdom. However, there are some differences between them:

Diaspro has blond hair but Sky's guardian has black hair.
Diaspro has a normal tiara but Sky's guardian has a Solaria-like crown.

It is unknown how and if Diaspro is the Princess of Eraklyon in the Nick dub, since Sky had already been prince/king there and they are not brother - sister.

It is possible that there are minor royalties on different sides of Eraklyon and that Sky's family is the one to control everything on Eraklyon.

This scenario is much more possible in the comics series, as Diaspro will one day become queen of her kingdom without having to marry Sky.

She may also be a kind of cousin of Sky as it was tradition in old royalty for princes and princesses to marry a cousin in order to keep only royal blood running through the heirs' veins.
She may be of noble blood. This differs from the second season, as the original writers did intend for her to be a princess.

She was seen in Season 5 on Eraklyon and was appointed as the King's Liaison even though she was banished from Eraklyon in Season 3.
Diaspro, along with Miele and Daphne, although not members of the Winx, do have transformation sequences.

In Season 6 however, her transformation was not shown but still transformed.

Diaspro has cynophobia (the fear of dogs).
Cassandra Morris, who replaced Ariana Grande as Diaspro's voice actress in Nickelodeon dub, is also the voice of Chimera in 4Kids dub.
Diaspro is much less antagonistic and friendlier to people other than Sky in the comics when compared to how she acts in the animated series.

Issue 31 even reveals that she and Bloom could have been good friends had it not been for their rivalry spawned from Sky cheating in Season 1.
Ironically, in one instance, the Winx (mainly Bloom and Stella) unfairly antagonize her upon arrival. While this would be justified in the animated series given what she has done, all Diaspro did was attend a party Stella had organized in honor of Sky and Brandon's victory in the war and their safe return to Magix.
Ad blocker interference detected!
Wikia is a free-to-use site that makes money from advertising. We have a modified experience for viewers using ad blockers

Wikia is not accessible if you've made further modifications. Remove the custom ad blocker rule(s) and the page will load as expected.