Kind of, but we have better style.

This Article is an A! This article has all the sections and images in place, making it complete.
Princess Diaspro
is the former arranged fiancé of
Sky
and an unofficial, co-member/sub-member of the 
Trix
. 
Appearance
Diaspro has wavy pale blonde hair, citron orange/amber eyes and medium to tan skin. She mostly wears a red-and-ivory corset dress with puffy sleeves and two light purple swirly bracelets that travel up her forearms. She also wears a light purple headband tiara with a large red jewel that may very well be a jasper, contributing to her name.
Diaspro wears a dress with an ivory bodice and a red skirt. She has maroon boots, and a red bracelet and hair piece. Her wings are maroon with red tips. She also wears a headband that is decorated with jewels.
Diaspro wears a white necklace with two small gems and one large one in the center. On each arm she has a slightly ruffed light pink sleeves that are attached to the bottom of an arm bracelet and split in the middle and goes down to her elbow, along with two bracelets, each having one large gem in the middle. The dress itself is long and has many layers of frills and is a maroon color.
Diaspro retains her tiara headband and necklace from her civilian outfit. Her hair is now clipped halfway up and held in place by a maroon hair clip. This outfit consists of a light purple collar, shoulder and upper torso armor with puffy ivory elbow length sleeves and gloves. She has a light purple belt that has armor on both sides with a red diamond-shaped gem in the middle and puffy ivory pants that has plates covering her knees and knee length maroon boots. The outfit also used to have the emblem of Erendor but was later removed.
Personality
Diaspro is a wicked and spoiled fairy, who is not used to being told "no". Because of her higher social status, she tends to mistreat those who are below her. This is seen when she calls Bloom a "peasant" in the first season and when she shouts at one of her servants in the third season. She is also very haughty, and extremely proud of herself. She prides herself on being beautiful, because she thought Sky only wanted her to be pretty enough.
Diaspro only acts affectionate toward Sky, her childhood friend and ex-fiancé, though it is uncertain whether she has actual romantic feelings for him, or if it has to do with the fact Sky is next in line for the throne of Eraklyon. She is seen to be most willing to do anything in order to get what she wants, even if what she is doing is against all morality a fairy should consider. During Tritannus' threat, she tried so hard to get between Bloom and Sky that she did not care about the fate of the Magic Dimension and she even opposed Bloom's opinion on forming an union between worlds to save them. She sunk even lower in season 6 where she actually allies herself with the Trix since it meant taking Bloom down in the process, she is also shown to be rather spiteful, cunning and manipulative, and does not like hard work.
Series
Seasons
Specials
Bloom thought that Diaspro was one of the Trix's tricks. They had a battle in which Bloom discovered that Sky was Diaspro's arranged fiancé.
Magical Abilities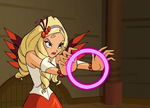 Diaspro is the Fairy of Gemstones or Gemlight, thus giving her the ability to control gems and possibly precious jewels.
And as the Fairy of Gemstones she knows how to help people shine with their inner beauty just like jewelry.
Uses of Magic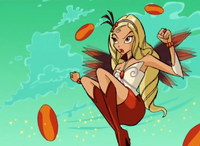 Create a red shield.
Manifest gems that can blast streams of magic energy.
Create a neon pink ring that can restrain her opponent.
Shot red shards of magic energy.
Encase her target within a transparent crystal.
Transformation Sequences
Trivia
In 4Kids, her powers were more specifically stated as quartz - the second most abundant mineral on Earth.
Diaspro's realm in the 4Kids dub, Isis, is named after the Egyptian goddess of magic and fertility. In the Nickelodeon dub, Diaspro mentions that she is from Eraklyon like Sky in Season 5.

Sky's guardian resembles Diaspro in The Secret of the Lost Kingdom. However, there are some differences between them:

Diaspro has blond hair but Sky's guardian has black hair.
Diaspro has a normal tiara but Sky's guardian has a Solaria-like crown.

It is unknown how and if Diaspro is the Princess of Eraklyon in the Nick dub, since Sky had already been prince/king there and they are not brother - sister.

It is possible that there are minor royalties on different sides of Eraklyon and that Sky's family is the one to control everything on Eraklyon.
She may also be a kind of cousin of Sky as it was tradition in old royalty for princes and princesses to marry a cousin in order to keep only royal blood running through the heirs' veins.
She may be of noble blood. This differs from the second season, as the original writers did intend for her to be a princess.

She was seen in Season 5 on Eraklyon and was appointed as the King's Liaison even though she was banished from Eraklyon in Season 3.
Diaspro, along with Miele and Daphne, although not members of the Winx, do have transformation sequences.

In Season 6 however, her transformation was not shown but still transformed.

Diaspro has Cynophobia (the fear of dogs).
Cassandra Morris, who replaced Ariana Grande as Diaspro's voice actress in Nickelodeon dub, is also the voice of Chimera in 4Kids dub.
Before the sixth season, in the comics, the Trix decided to ruin Bloom and Sky's relationship once again. Since Diaspro was in town and had a past with the couple, they cast a spell on her current estate causing her to be stricken with an illness whose intensity lessens if Sky was present (he was, so that he could comfort her). When Sky was in danger, Diaspro and Bloom ended up working together to save him, when she step away from her estate she was much better and realized someone had placed a spell around the property. In the end, Diaspro was able to understand that Bloom is truly a powerful fairy and was able show a soft side for her, but admitted she still did not like the idea of Sky taking her (Bloom) as his true love.
Ad blocker interference detected!
Wikia is a free-to-use site that makes money from advertising. We have a modified experience for viewers using ad blockers

Wikia is not accessible if you've made further modifications. Remove the custom ad blocker rule(s) and the page will load as expected.