Dark Bloom
Talk

2
1,155pages on
this wiki
Dark Bloom

Voiced By

Letizia Ciampa (Original/Italian)
Molly C. Quinn (Nickelodeon)
Melanie Henríquez (Latinamerica)

Age (at first appearance)

16

Affiliation(s)

Lord Darkar

Magical Abilities and Powers

The Dragon Fire/Flame

Fire Manipulation/Control Heat Control & Manipulation Healing Abilities Life-Force Manipulation/Control Life-Force Generation Pyrokinesis Thermokinesis Fire Magic

Fire and Heat Absorption

First Appearance

Last Appearance
Officially known as Dark Bloom - when Bloom turned evil due to Lord Darkar's diabolical influence on her. She only appeared twice.
Appearance
Her eyes change color to yellow, with cat-eye pupils, while her eyeshadow became dark violet. Her still-sparkling Winx outfit is somewhat dark blue instead of the usual cyan. The tiara becomes silver and pointed, and the brooch on her shirt turns dark purple. Bloom's waist-length dark orange hair becomes thicker and a darker shade of red while her wings become dentate and cyan with gray tips.
In the Nick form (The Shadow Phoenix special), Dark Bloom wears the gothic clothing style– she wears navy black leggings and her outfit only changes color. Her brooch's shape, her tiara's shape, her boots' shape does not change.
Personality
While in this form, she is very negative and does bad deeds (heartless, abusive, unwilling, mean, selfish, manipulative, mischievous, cruel, and uncaring) and obeys
Lord Darkar
loyally. For example, she steals the
Codex
fragment from
Alfea
for Darkar. She only made one other appearance in the
Season 2
finale, when Darkar discovered that he needed both the powers of light (which is the
Dragon Flame
- the very source of the Great Dragon's power) and darkness to claim the Ultimate Power of
Realix
.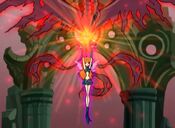 Thanks to her friends - and mainly Sky saying he loves Bloom more then anything - Bloom heals her friends and herself with her pure heart, returns to normal, returns the Ultimate Power to Realix, and joins her friends in a Charmix Convergence that banishes Lord Darkar back to his Fortress.
Magical Powers
See Also: List of Bloom's spells
Dark Bloom has the same powers that Bloom had by that moment, such as fire-based powers that can manifest in the form of dragons, fireballs and explosions at varying intensities. They are usually offensive with rare occurrence of a defensive firewall (Flame Shield). The intensity and strength of her magic is proportional to her emotional state. She also had some sort of levitation spell that she used to put Timmy upside down, among with some of Darkar's dark magic. She also seems to have better reflexes than her normal self, as she dodges all her friends attacks with ease.
Trivia
The differences between Rai & 4Kids with Nick's Dark Bloom are Dark Bloom wears navy black leggings, and her wings, boots, and the ends of her hair and tiara do not change from their original shape.
She is an unlockable character in the Nick game: Super Mini Puzzle Heroes.
According to Darkar in the Rai version, she is the natural consort of Darkar as Dark Bloom possesses the power of the Dragon Fire, the strongest and most powerful magic in the entire Magic Dimension and the Phoenix possesses the Shadow Fire, the complete opposite of the Dragon Fire.
Dark Bloom's only word is "Yes" when she is asked to begin the ritual to get ultimate power of Realix and then she said the Chant of Power to summon the Ultimate power of Realix. Most of her speech is snickering evily.
In 4kids, her wings weren't sprakling but on Nickelodeon her wings have sparkles.
Gallery
Video
Dark Bloom (Original Rai)

Added by

Araville

dark bloom transform nick

Added by

Kassie775180