Wow, did I just say that?

This article is a B. It is missing three or fewer sections, or some images need to be added. Please do what you can to help!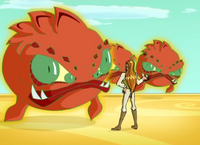 The
Creatures of Megatess
(or
Negatus
) are magical creatures that inhabit the realm of Megatess. The creatures sip energy and only a well-performed
Enchantix
spell can defeat them.
Appearance
They resemble the Bollabies but with a bigger, round and orange body, big yellow eyes with green pupils. They have wide big mouths and their sharp teeth are visible. They resemble spider like creatures with their sharp fangs and multiple eyes.
Series
Season 3
The creatures from Megatess appeared in Valtor's Box where the Winx had to defeat them with their new Enchantix powers. They all succeed except Bloom due to her incomplete Enchantix.
Magical Abilities
Ad blocker interference detected!
Wikia is a free-to-use site that makes money from advertising. We have a modified experience for viewers using ad blockers

Wikia is not accessible if you've made further modifications. Remove the custom ad blocker rule(s) and the page will load as expected.