Winx Club Forever

This page is completed. Please do not add any categories, pictures or any edits!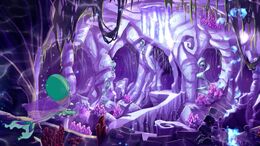 The
Cove of the Shimmering Shells
is a place at the surface of the Oceans of Andros.
Overview
It is a place at the surface of the Oceans of Andros. The Labyrinth of the Abysses is directly below it, where the Shimmering Shells, a group of gleaming shells, sing with the ocean's voice.
Series
The Winx need to find another clue to find the Gem of Self-Confidence, so they traveled Andros' ocean to find the Shimmering Shells in the Labyrinth of Abysses. When they arrive, it is seen that Tritannus had spread pollution, and the Shimmering Shells were releasing pollution and making illusions. However, the Winx manage to purify it again. After that, the clams give the Winx a new clue.
Gallery
Ad blocker interference detected!
Wikia is a free-to-use site that makes money from advertising. We have a modified experience for viewers using ad blockers

Wikia is not accessible if you've made further modifications. Remove the custom ad blocker rule(s) and the page will load as expected.