Winx Club Forever

This page is completed. Please do not add any categories, pictures or any edits!
The
Company of Light
was a group formed by
Queen Marion
and
King Oritel
of
Domino
in order to protect their world, Domino, in face of the attack from the
Ancestral Witches
. The Company of Light was formally introduced by Headmistress Faragonda in Season 3, Episode 7 "Heroes of the Past". Faragonda revealed to Bloom more about her birth parents' origins involving the connecting to Valtor. Since King Oritel and Queen Marion disappeared into Obsidian, up until the first movie, the Company of Light disbanded for more than seventeen years. It wasn't until the destruction of Obsidian, and the return of Oritel and Marion, that the Company of Light was revived. Now, the legendary group is formed by six fairies: The Winx Club.
Known members
Current members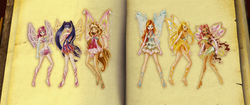 Former members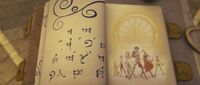 Series
Movies
Trivia
The Company of Light shares some similarities with the Order of the Phoenix of the Harry Potter Series in that it was founded to fight against dark forces (Voldemort in Harry Potter; Darkar, the Ancestresses and Valtor in Winx Club), was dissolved when the enemies were first defeated and became formed again when the dark forces came back after many years.
The number of former members of the Company of Light is also the same with the number of new members of the Company of Light.
Gallery
Ad blocker interference detected!
Wikia is a free-to-use site that makes money from advertising. We have a modified experience for viewers using ad blockers

Wikia is not accessible if you've made further modifications. Remove the custom ad blocker rule(s) and the page will load as expected.