An arena packed with beauty queens... I'm scared to go in there.

This article is a C. It is missing three or more sections and has little to no imagery. Anything that can be added will be appreciated highly.
Carolina is a character, portrayed by Carolina Kostner, who appears in the Winx on Ice show. She is a normal girl at first, but she is turned into a witch by the Trix.
Overview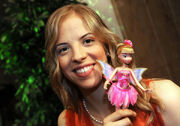 She steals a magic diary, and writes that she dreams a world where the magic of poetry is not a strange thing. She is transported to
Alfea
as the new student. She later meets the Trix, who turn her into a witch. Carolina accomplishes three spells against the Winx, but later realizes that she is becoming a witch. In the end, she writes the spell to defeat of
Valtor
and the Trix.
Appearance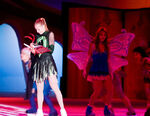 Carolina has long blonde hair and brown eyes. Her skin tone is pale.
Other things coming soon...
Personality
Coming soon...
Magical Abilities
Carolina may know some basic, first-level spells that all fairies can use, such as telekinesis, transmuting objects, and fixing minor messes.
Trivia