Winx Club Forever

This article has been completed. Please do not add any categories, pictures, or edits!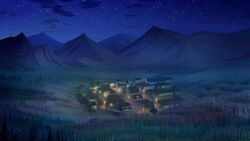 Canada
is a country located in North America,
Earth
.
Overview
Canada is a country in North America consisting of ten provinces and three territories. Located in the northern part of the continent, it extends from the Atlantic to the Pacific and northward into the Arctic Ocean. At 9.98 million square kilometers in total, Canada is the world's second-largest country by total area and the fourth-largest country by land area. Its common border with the United States forms the world's longest land border.
Locations
Series
In "The Curse of Fearwood", the people of Fearwood were cursed by Selina to become Werewolves. They were sent by her to attack the Winx.
Later, Icy asks Selina to find a legend that she can portray to enter the Legendarium World and lock Flora and Helia in it. Icy then freezes Helia and kidnaps him.
In "The Magic Totem", Icy as the Snow Queen continues her chase with Flora. With Flora's special spell, she left the Legendarium World along with Helia and the Magic Totem. Later in the episode, she follows them into the real world and froze Fearwood over, but Flora uses one of her unique spells to reverse Icy's spell on Fearwood, on Helia and to defeat her.
Legends
The Werewolves:

"

From the darkest times, comes the curse of Fearwood Forest, where mere and mortal men and women howled at the moon.

"
Trivia