Winx Club Forever

This article has been completed. Please do not add any categories, pictures, or edits!
Calavera
is an island in
Mexico
, on
Earth
, introduced in
Season 6
.
Overview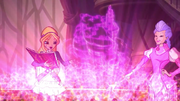 Calavera is an island on
Earth
, near
Bajo Mundo Cave
, a location where the
Occulta
had sank and where the
Fantasy Emerald
was. According to
Daphne
, there are a number of legends in that island. It also has a seashore. In it is a village full of tourists and local people. In its clearing, there is a hut belonging to a
Wise Woman
. There is also a small coconut milk store near the shore. At
Bajo Mundo Cave
, there is also a submerged entrance to enter it.
Series
Season 6
In "Mystery of Calavera," The Winx go to Calavera to find the Fantasy Emerald. There, the Winx, Daphne, Specialists and Paladins meet the citizens, the Wise Woman and the Bajo Mundo Cave. They surf their way to the cave and from there, enter the Legendarium World. Warned by Eldora that they might get stuck in there if they stayed there, they hurry to find the emerald but it isn't long enough to picks up a fight with the Trix and the Pirate Zombies.
In "Zombie Invasion," they continue their battle with the Trix and Winx, but they get away with the Fantasy Emerald. During their stay, everyone celebrates a party. Later in the episode, Selina unleashed the fog from the Legendarium to invoke them in order to steal their Fantasy Emerald back, but Bloom and the people on Calavera Island defeat them, which let them continue their party that was cut short by Selina's attack.
The Bajo Mundo Cave
Main article: Bajo Mundo Cave
It is a nearby cave where pirates were said to hide their treasures. In front of it, the Occulta Ship was said to sank. And even though the ship had sunken, the pirates hid their treasures in the cave.
Legends
According to Daphne, there is a number of legends in the island. The legend of the Pirate Zombies is the only legend mentioned in the series, but there are two versions of it - The Wise Woman's version and the Legendarium's Version.
"

Legend has it that the Oculta ship sunk in front of Bajo Mundo Cave. Even after they became zombies, the pirates didn't abandon their treasure. They just moved it in a secret hiding place.It is underwater, off the island, where the old lighthouse stands. When the fog rolls into the island, so too does the Oculta and all of its zombie pirates.

"
"

This is a story about the pirate ship, Oculta, which ruled the seven seas for a hundred years. Many pirates were lost, but none ever left the ship until it finally sank.

"