Winx Club Forever

This article has been completed. Please do not add any categories, pictures, or edits!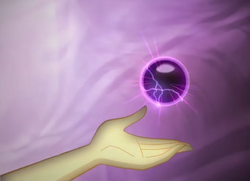 The
Black Gift
is the third and final
Gift of Destiny
. It has power to restore life to the deceased, but can only be used once.
Overview
The Black Gift was said by the Ethereal Fairies to be the most dangerous of the Gifts of Destiny, and that is because it can only be used once to revive a single person. It is for this reason that no one wants to use it. It is said by Sibylla that the Black Gift is the most terrifying as well as the most beautiful of the Gifts of Destiny.
Appearance
The Black Gift is a dark sphere with a black and purple electric aura. There are purple bolts that crackle around it.
Series
Season 4
In "Bloom's Trial," the Winx are presented this gift by Ethereal Fairies. According to them, it is a spell that saves a person from death.
In "The Day of Justice," Nabu tries to close the dark abyss created by the Wizards of the Black Circle, using up all his energy in the process. Then, Aisha summons the Black Gift to save Nabu, but Ogron steals it and uses it to save a withered flower.
Trivia
Though it is said it can only be used on a person, Ogron uses it on a flower.
Gallery