Black Circle
Talk

2
1,156pages on
this wiki
I'll catch you on the download!

This article is a stub. You can help Winx Club Wiki by expanding it. Make sure to check the standards before editing.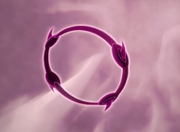 The Black Circle is a magical structure created by the Wizards of the Black Circle as a way to fight the fairies' power.
Powers
It is magically opposed to the White Circle, and was created by the Wizards when they started the Great Fairy Hunt to combat the powers of the White Circle. Its powers are to seek, capture and imprison Earth Fairies as well as to steal their magic powers by plucking their wings. The Black Circle is the magical opposite of the White Circle.
According to Ogron, it is the source of the power of the Wizards. However after the Black Circle is destroyed when Morgana is tricked into wearing it, the Wizards still have their powers, though this could be because the Wizards already had magical powers before creating the Black Circle and the powers of the Fairies they captured were absorbed into the Black Circle and gave the Wizards more magical strength. Thus, when the Circle was destroyed, what remained with them was only their original strength from before they started the Fairy Hunt. Or maybe when Bloom gave the Black Circle back to Ogron before he gave it to Morgana then he and the other Wizards took back their powers from it.
When the Wizards captured Fairies and plucked their wings, they also stole the powers of these Fairies which was absorbed into the Black Circle and imprisoned the Fairies themselves in the realm of Tir Nan Og, and this made the Wizards stronger as the Black Circle probably fed from the powers of the imprisoned Fairies as well. When the Winx freed the Earth Fairies, the Wizards were greatly weakened as the energy that had been absorbed in the Black Circle was now free and the Black Circle could no longer feed upon the captured Fairies' power.
Series
Pre-Series
Coming soon...
Season 4
Coming soon...