Wow, did I just say that?

This article is a B. It is missing three or fewer sections, or some images need to be added. Please do what you can to help!
Lord Bartleby was King Oritel's scribe and official keeper of the Book of Fate.
Appearance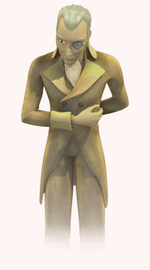 Coming Soon...
Personalities
Coming soon...
Seasons
Background
Lord Bartleby was the Scrivener of Oritel, now has become spectrum caretaker of the Book of Destiny. But unlike Daphne, has nothing of the ghost. His attitude is that of a Lord of other times. is gentle, his company pleasant and always knows a few alternate phrase, a little factual knowledge to others of great kindness, so as to arouse the smile for his gallantry out of time.
When the Winx and the Specialists came to Domino looking for the Book of Destiny, Bartelby assisted them by translating the book and helping them find out where Oritel and Marion were. He also said that he could not remain in the same dimension as the Winx for long, possibly meaning that he is perhaps still alive, but in another dimension, or that similarly to how Daphne's spirit is bound to the Lake Roccaluce, Bartelby's spirit is bound to the Book of Fate and cannot leave it for long.
At the end of the first movie, Bartelby appeared next to the book and announces that Bloom was now a true Guardian Fairy, and a new Company of Light had been formed: The Winx.
Trivia
Bartelby is the narrator in the beginning part of the movie.
Ad blocker interference detected!
Wikia is a free-to-use site that makes money from advertising. We have a modified experience for viewers using ad blockers

Wikia is not accessible if you've made further modifications. Remove the custom ad blocker rule(s) and the page will load as expected.