An arena packed with beauty queens... I'm scared to go in there.

This article is a C. It is missing three or more sections and has little to no imagery. Anything that can be added will be appreciated highly.
Augustus is a gnome from PopPixie.
Personality Profile
Augustus plays the part of a jolly shopkeeper, but he is really a vulture who swiftly puts up the price of a toy under his client's very nose.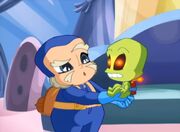 Appearance
Coming Soon
PopPixie
Coming soon
Toy Shop
He is the owner of the Toy Shop where Fixit works. The arrival of Fixit brought success and lots of clients to his toy shop.
Augustus never loses an opportunity to cut Fixit's salary; the Pixie puts up with the questionable behavior of the Gnome because Augustus allows him satisfy his whims with his creations in the shop lab. Augustus on the other hand knows that without Fixit his top shop would simply not exist.
Ad blocker interference detected!
Wikia is a free-to-use site that makes money from advertising. We have a modified experience for viewers using ad blockers

Wikia is not accessible if you've made further modifications. Remove the custom ad blocker rule(s) and the page will load as expected.