Wow, did I just say that?

This article is a B. This article is a B, meaning it is missing three or fewer sections, or some images need to be added. Please do what you can to help!
Annabelle is one of the talents who appears in World of Winx. She is the first talent to be kidnapped and her voice was stolen and used by the Queen.
Appearance
Annabelle's hair is tied up into a ponytail, she wears light blue eye shadow, pink blush, and lip gloss.
She wears a long, black leather jacket over a sparkly, light-blue, short dress and, black and blue wedges.
Personality
Annabelle is a happy person as she can be seen to be smiling a lot, she is a bit more carefree than her friend, Louise but still remains a hard worker. She is passionate about writing songs and singing, having a lot of fun while doing so. She is also rather courageous, as she can be seen in a flashback trying to stop a man who had broken into her home.
World of Winx
Season 1
Annabelle was at her usual cafe job when she starts to sing, catching the ears of the Winx. When the Winx had asked her to come onto their show, she was hesitant and did not have proper vocal training. With the Winx's encouragement and Musa as her vocal coach, she started to feel that her dreams were coming true. She worked hard in both her singing exercises and her job at the cafe. Then it was time for her to perform her first concert, Stella and Musa helps her get ready.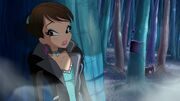 On stage, she finishes her first song as the Winx watch her proudly; the audience cheers, making her super happy. She returns to her dressing room and takes a moment to take it all in. When suddenly, the lights go dark. She drops her earrings and she searches for them, then a mysterious man appears and kidnaps her.
She remains trapped in the World of Dreams, after the Winx failed attempt to rescue her. At some point, the Queen had stolen her voice and placed her in a prison that kept her weak and drained her talent. She was eventually freed alongside the rest of the captured talents and later seen attending the party at the WOW stage.
Season 2
Ad blocker interference detected!
Wikia is a free-to-use site that makes money from advertising. We have a modified experience for viewers using ad blockers

Wikia is not accessible if you've made further modifications. Remove the custom ad blocker rule(s) and the page will load as expected.