An arena packed with beauty queens... I'm scared to go in there.

This article is a C. It is missing three or more sections and has little to no imagery. Anything that can be added will be appreciated highly.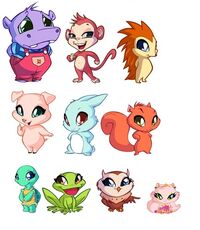 PopPixie's animals have an active role in society just like the Pixies and Gnomes. They work and have the same rights as the other citizens of Pixieville. Unlike the pixies and gnomes however, the PopPixie animals live in lairs and houses of the forest community in Pixieville. Each animal is the assistant or companion of an assumingly bonded pixie or elf.
They are similar to the Pixie Pets that appear in Winx Club.
Appearance
With either small wings or none, on Pixieville most animals are able to talk, do chores helping out the Pixies and some wear clothes. Varying from 5cm to 10cm tall, PopPixie's animals are generally small creatures with heads that are larger in comparison to their body.
PopPixie
Ad blocker interference detected!
Wikia is a free-to-use site that makes money from advertising. We have a modified experience for viewers using ad blockers

Wikia is not accessible if you've made further modifications. Remove the custom ad blocker rule(s) and the page will load as expected.